The longitudinal movement of the CNC Tool Grinder BT-100 table and the lateral movement of the grinding head are hydraulically driven and step-less regulated. The lateral movement of the grinding head can also be operated manually. In addition to manual feeding, the vertical direction of the grinding head is also equipped with an organic moving fast lifting mechanism, which can reduce labor intensity and improve work efficiency. The vertical guide rail of the grinding head is affixed with a PTFE rail soft belt, which has good wear resistance, low energy consumption, and sensitivity. The precision centerless grinding machine has smooth movement, high precision, reliable performance, and high efficiency, and is especially suitable for the mechanical grinding of metal workpieces.
Features of CNC Tool Grinder BT-100
1. It is fixed by the grinding wheel frame and the layout of the guide wheel frame is moved. 2. The grinding wheel spindle adopts cantilever structure, and the main shaft adopts multi-piece long-axis dynamic oil film bearing structure. 3. The guide wheel main shaft adopts double row cylindrical roller bearing structure, and the guide wheel has double support structure with high rotation precision. 4. Grinding wheel spindle lubrication with the thermostat. 5. The guide wheel adopts AC frequency conversion step-less speed regulation device, which can not only step-less speed regulation but also anti-backup function. 6. The guide wheel frame feed adopts the servo motor direct connection ball screw mechanism, and the feed guide rail adopts high rigidity linear guide rail. 7. Sand and guide wheel dresser The reciprocating guide rail adopts linear guide rail, and the gear motor driven by the geared motor can be step-less regulated. 8. The cooling system uses a magnetic separator filter unit. 9. The operation adopts 10.4-inch touch screen man-machine dialogue, with the automatic cutting-in grinding program, feed rate, speed, time, step difference are adjustable, PLC or CNC system can be selected. 10. The machine is modular in design and beautiful in appearance. Users can configure and purchase according to their own needs.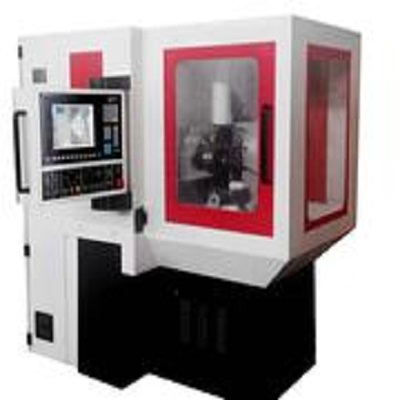 Characteristics of CNC Tool Grinder BT-100
Bullet-type direct spindle: This machine's direct spindle adopts P4 precision bevel ball bearing. It has low noise, no vibration and large torque under high-speed rotation. It is suitable for heavy cutting and various precision grinding. Automatic lubrication system: It adopts circulating automatic lubrication system. When the spindle starts, the lubricating oil will automatically circulate, providing forced lubrication to each screw and slide, which can greatly reduce the wear of the slide.
Technical Description of CNC Tool Grinder BT-100
| | | | |
| --- | --- | --- | --- |
| X-axis travel | 450mm | Spindle rated power | 12kw |
| Y-axis travel | 350mm | Main spindle speed | 1000- 9000rpm/min |
| Z-axis travel | 200mm | Taper bore vibration | 0.005mm |
| An axis travel | Continuous 360° | Grinding rod vibration | 0.01mm/100mm |
| B axis travel | -20°- 190° | Grinding rod taper | BT40/straight shank |
| X-axis positioning accuracy | 0.01mm | Number of grinding wheel | 4 pieces |
| Y-axis positioning accuracy | 0.01mm | Max grinding wheel diameter | φ150mm |
| Z-axis positioning accuracy | 0.01mm | The diameter of the grinding wheel rod | φ31.75mm |
| An axis positioning accuracy | 0.01° | Workpiece taper | BT50 |
| B axis positioning accuracy | 0.01° | Max grinding length | 300mm |
| Repeat positioning accuracy | 0.005mm | Min shank diameter | φ3mm |
| Division min unit | 0.01° | Max stem diameter | φ20mm |
| Control resolution | 0.0003m m | Working pressure | 0.6-0.8MPa |
| Machine axis | Five-axis | Coolant flow | 200L/min |
| Control axis | X/Y/Z/A/B | Total power | 26.5kw (3 phase AC380V) |
| Linkage axis | Five axis | Weight | 5T |