Basic Introduction To Tap
Tap is a thread processing tool, for our grinding is usually divided into straight – slot tap and spiral – slot tap. Tap belongs to the hole processing tool, generally there is a bottom hole, and then the hole wall processing thread. It can also be divided into machine tap and manual tap. Taps are divided according to their shape into straight – slotted taps, spiral – slotted taps and spiral – pointed taps (apex taps). Straight – slot tap is easy to process, slightly lower precision, larger output. It is generally used for thread machining of general lathe, drilling machine and tapping machine. Spiral groove taps are usually mainly used for blind hole drilling in CNC machining centers, with fast processing speed. It has the characteristics of high precision, good chip removal and good performance.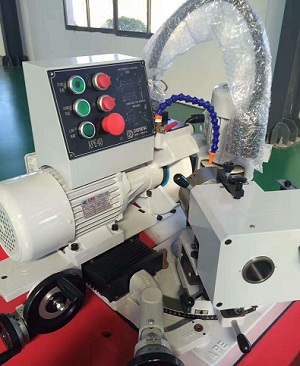 The front part of the screw tip tap has a chip tank, which is used for the processing of the through hole. The unequal diameter design of tap cutting distribution is reasonable, and the processing quality is high. However, it still has certain disadvantages, that is, the manufacturing cost of the tap is also high. Trapezoidal thread taps are often designed with unequal diameters. Tap is the most popular tool used by manufacturing operators in tapping.
Grinding Tap Repair Equipment And Grinding
The equipment we use is usually manual equipment APE40. Tap we repair relatively less, repair the grinding of the front end guide part. Usually the original wear guide with a line cut off, after the equipment to do a new guide. With milling cutter, there are two kinds of grinding methods, one is to repair the groove, the second is to repair the surface of the knife. For the tap, the straight flute tap, the effect is relatively good after the grinding, the spiral flute tap, after the repair of many customers reflect that the grinding is not very good.